Weight Loss Retreat In India Goa
Sanda Retreats Weight Management Program is designed to work with you as an individual according to your needs. We don't believe in diets or slogging in the gym for hours every day. We believe in balancing the three chakras of the body – physical, physiological and psychological. But it isn't a set of "one size fits all" rules. Our team of highly trained and dedicated professionals will set you on the right track to achieving your weight loss goal.
Eat Right: Our bodies are unique and getting it right for "You" is important. And so our Ayurvedic doctors will help you know and understand your body, the reason for weight gain and why your body might be holding on to it, along with the foods that work and don't. Working with this information, your routine and lifestyle our nutritionist will work out a practical yet effective meal plan for when you get back home. So no more diets simply enjoy eating right.
Exercise Right: When we are looking for weight loss we are looking at changing your body composition. In short not just the numbers on the scale but inches too. Physically we look at your body composition and work on increasing lean muscle mass and burning fat. Weight becomes irrelevant when your body tissues are in the right proportions to support your skeleton and internal organs, improve your posture and make your body strong, supple and mobile (not to mention lean and toned!). We combine a range of exercise techniques including yoga, power yoga, beach side fitness, cardio and weight training.
Think Right: Addressing lifestyle and behavioural patterns related to weight gain or difficulty in losing weight is the focus of the hypnotherapy session. There's no denying it – losing weight can sometimes be a long and challenging journey. If you've ever tried it before and failed then you probably know how frustrating it can get – especially when feelings like stress, low self-esteem and boredom crop up. By targeting the subconscious mind with powerful suggestion techniques, our hypnotherapist will help you develop a positive relationship with food and exercise.
Providing your body with the perfect set-up to detox, cleanse and lose weight all we need is for you to let go and enjoy some peace and quiet.
SINGLE
AED 4,670 (Onwards)
---
DOUBLE (PP)
AED 3,940 (Onwards)
SINGLE
AED 6,180 (Onwards)
---
DOUBLE (PP)
AED 5,260 (Onwards)
SINGLE
AED 8,860 (Onwards)
---
DOUBLE (PP)
AED 7,550 (Onwards)
SINGLE
AED 11,830 (Onwards)
---
DOUBLE (PP)
AED 9,980 (Onwards)
Special Offer – 25 % Off Now 
Book Before 20th April 2019 and Stay Between 12th April 2019 To 31st May 2019
– Gain holistic insight into your body and mind.
– Start to trim your waistline and tone your body.
– Leave equipped with tools to achieve your ideal weight.
– Discover yoga for health and wellbeing
– A jump start to a more active and healthier lifestyle
– Experience a cleaner more vibrant you.
ANYONE WHO:
– Finds it difficult to Lose Weight and Keep It Off.
– Has Tried Many Diets In The Past Without Luck.
– Is Overweight or Obese.
– Suffers From Binge Eating Disorder or Emotional Eating.
– Negative Self Image and Body Image.
– Unsure of Correct Nutrition For Weight Loss.
– Food or Sugar Addiction and Cravings.
– Poor Level of Fitness.
– Suffers with Cellulite.
– Poor Quality Sleep and Insomnia.
OR ANYONE SUFFERING FROM:
– Poor Lifestyle (Alcohol,Toxic Exposure,Unhealthy Eating High Stress).
– Suffers from IBS (Irritable Bowel Syndrome).
– Lacks The Motivation and Energy To Exercise.
– Stiff, Aching Joints and Muscles.
– Respiratory Difficulties.
– Allergies or Intolerances.
– Low Energy and Fatigue.
– Depression and Anxiety.
– Gastric Disturbance Including Bloating.
– Indigestion, Heartburn or Acidity.
– Lack of Enthusiasm.
Please Note : Anyone with chronic or heavily medicated conditions may be asked to supply a doctor's letter verifying that they are fit to come on a Weight Loss Retreat. All retreat guests consent to treatment involving the application of all integrated therapies, assessments, consultations and treatments included on the retreat of their own free will and without any coercion or undue influence.All integrated therapies for any disease or chronic condition do not guarantee a cure or remission from any illness. Your Doctor and any specialist consultants will remain responsible for your general medical care throughout the period of application of the integrated therapies. The Sanda Wellness Team and its entire professional staff will act in an advisory capacity only.
How You Benefits
BENEFITS YOU CAN EXPECT FROM OUR RETREAT
---
– Weight Loss, Fat Loss and Inch Loss.
– Further Weight Reduction Following The Retreat.
– A Clear Understanding of Correct Nutrition without Dieting.
– Increased metabolism and metabolic balancing.
– Reduction and even complete elimination of food cravings.
– Improved digestive functions such as absorption and
– Increased knowledge of optimum nutrition and food choices.
– Reduction in fluid retention.
– A Healthier Body and Self Image.
– Increased energy, vitality and stamina.
– Increased immunity & resistance to infections & illness.
– Reduced joint aches and pains and increased mobility.
– Improved sleep patterns and feeling rested and refreshed.
– Clearer Brighter Skin and Eyes.
"Beautiful location by the beach. Good facilities. Staff are wonderful, friendly and generous. I really enjoyed the overall experience. I feel much lighter both physically and mentally. Would definitely return".
- Aishling B, Age 27, Weight Management Retreat, Sept 2016, from Ireland
"Beautiful location by the beach. Good facilities. Staff are wonderful, friendly and generous. I really enjoyed the overall experience. I feel much lighter both physically and mentally. Would definitely return".
- Aishling B, Age 27, Weight Management Retreat, Sept 2016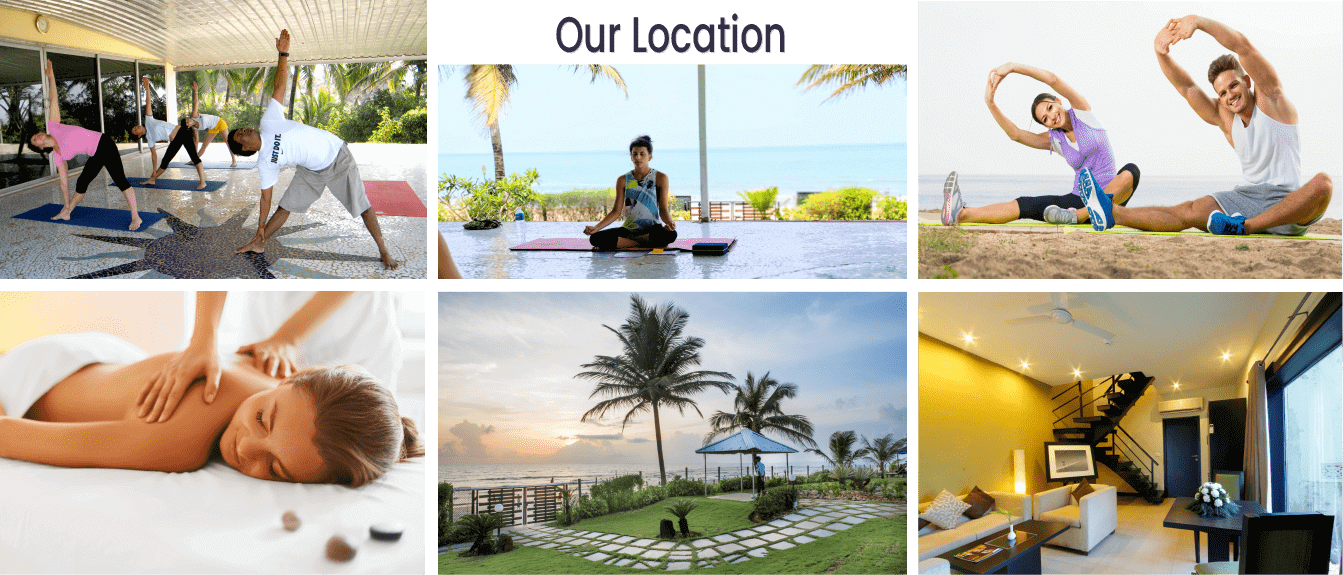 Contact Us:The Beach House Goa, Sernabatim Beach , Goa 403708, India   |   +91 788 809 8633   |  [email protected]