Total Body Rebalancing Retreat in India-Goa
The main purpose of this retreat is to restore and rejuvenate a tired body, tense mind and weary soul by focusing on balancing the Three Chakras of Life: The Physical, Psychological and the Physiological. The Total Body Rebalance Retreat is designed to approach Your Wellness holistically looking at your physiological, physical and psychological wellbeing. We believe that to allow your body's own very powerful self healing capabilities to do its work all 3 need to be in a state of equilibrium or balance. Our aim is to empower you to take an active role in Your Wellness by providing you with the knowledge and confidence to manage your wellbeing. This means not just treating the current Wellness issues but avoiding them for the future.The Total Body Rebalance Retreat is ideal for anyone who is stressed out emotionally and physically and needs to take a break from their day to day life and invest some time in them-selves. It is also suitable for anyone suffering from a wide range of health disorders including weight issues, high cholesterol, diabetes, PCOS, menstruation problems, cardio-vascular issues, arthritis, skin problems and stress-related disorders. This program is a Juice and Broth Fasting cleanse that focuses on not just removing toxins from the body but replenishing with the necessary nutrients the body needs to repair and rejuvenate cells, tissues and organs, whilst providing you with the rest and relaxation needed to allow your body and mind to heal. After only a few days you will notice the truly magical effects of the retreat, as many have already experienced! Your skin will glow with radiance, your hair will shine with vitality and your mind will be clearer and completely at ease! We provide you with the right environment, support, education and the tools to lead you onto the path to complete wellness! The Beach House is the perfect location to relax, unwind and enjoy the full benefits of this unique program. With twice daily spa treatments and all your 1-1 consultations included in the package you will finish the retreat feeling fully pampered and lighter in in both mind and body.
SINGLE
AED 4,440 (Onwards)
---
DOUBLE (PP)
AED 4,110 (Onwards)
SINGLE
AED 6,350 (Onwards)
---
DOUBLE (PP)
AED 5,540 (Onwards)
SINGLE
AED 8,920 (Onwards)
---
DOUBLE (PP)
AED 8,160 (Onwards)
SINGLE
AED 12,740 (Onwards)
---
DOUBLE (PP)
AED 10,880 (Onwards)
Special Offer 
– 
40% Off Now
Book Before 15th September and Stay Between 26th August' 18 To 30th October' 18.
Who Should Retreat
Anyone Who
– Is experiencing Specific Health Issues
– Wishes to break from Unhealthy Eating Habits
– Feels the Need to Break from Everyday Life
– Has Weight Related Issues
– Feels Stressed or Overworked
– Affected By City Living (high stress, long working hours, pollution, late nights)
– Experiences Emotional Turmoil (irritability, anger, frustration, depression, and sadness)
– Is Seeking Inner Peace and Happiness
– IBS and Any Digestive Problems Weight Gain
– Skin Problems Such As Acne, Psoriasis and Eczema
– Lifestyle (Alcohol, Toxic Exposure, Unhealthy Eating, High Stress)
– Pre Menstrual Tension and Mood Swings, Headaches or Migraines
– Stiff, Aching Joints and Muscles
– Susceptibility to Cold, Flu or Any Infections Respiratory Difficulties
– Addictions (Cigarettes, Alcohol, Gambling etc)
– Allergies or Intolerances
– Low Energy and Fatigue
– Depression and Anxiety
– Restlessness and Irritability
– Poor Quality Sleep and Insomnia
– Poor Concentration or Memory
– Fertility Problems
– Coated Tongue, Bad Breath or Body Odour
– Gastric Disturbance Including Bloating
– Hair & Nail Loss
– Feelings of Despair or Lack of Purpose
– Loss or Bereavement
– Trauma, Fears and Phobias
– Personal Relationship Problems
– Emotional Issues
– Just Need to Simply Take a Break
Please Note: You cannot do a Total Body Rebalance Retreat if you are Pregnant or if you have Type 1 Diabetes. Also anyone with chronic or heavily medicated conditions may be asked to supply a doctor's letter verifying that they are fit to come on a retreat. All retreat guests consent to treatment involving the application of all integrated therapies, assessments, consultations and treatments included on the retreat of their own free will and without any coercion or undue influence. All integrated therapies for any disease or chronic condition do not guarantee a cure or remission from any illness. Your Doctor and any specialist consultants will remain responsible for your general medical care throughout the period of application of the integrated therapies. The Sanda Wellness Team and its entire professional staff will act in an advisory capacity only.
How You Benefit
Benefits You Can Expect From Our Retreat:
– A feeling of revitalization and complete rejuvenation.
– Increased energy, vitality and stamina.
– Increased immunity and resistance to infections and illness.
– Increased metabolism and metabolic balancing for weight control.
– Weight Loss, Fat Loss and Inch Loss.
– Improved digestive functions such as absorption and elimination.
– Reduction in fluid retention.
– Reduced joint aches and pains and increased mobility.
– Reduced symptoms of chronic toxicity.
– Improved sleep patterns and feeling rested and refreshed.
– A greater sense of peace and inner calm.
– Heightened mental clarity, focus, concentration and memory.
– Stability of moods and emotional balance.
– Increased Motivation and Enthusiasm.
– Clearer Brighter Skin and Eyes.
– Improved Condition of Hair and Nails.
– Increased Self Awareness.
– Increased knowledge of personal health and wellness.
– Increased knowledge of optimum nutrition and food choice.
"We did the weight management program and had delicious juices, smoothies, soups and great lunches. We have learnt so much. All the staff have been charming and so obliging. A big thank you to everyone at The Beach House, we will be back."
- Rosie T, Age 57, Total Body Rebalancing Retreat, March 2016, from UK
"It truly was a life changing experience which i will always remember (Of course I will also plan to come back again, already miss it a lot). I learnt so much and felt so much better on my return, it was magical. Huge thank you for everything the team at sanda retreats done for me."
- Aanika B, Age 36, Total Body Rebalancing Retreat, Dec 2015, from UK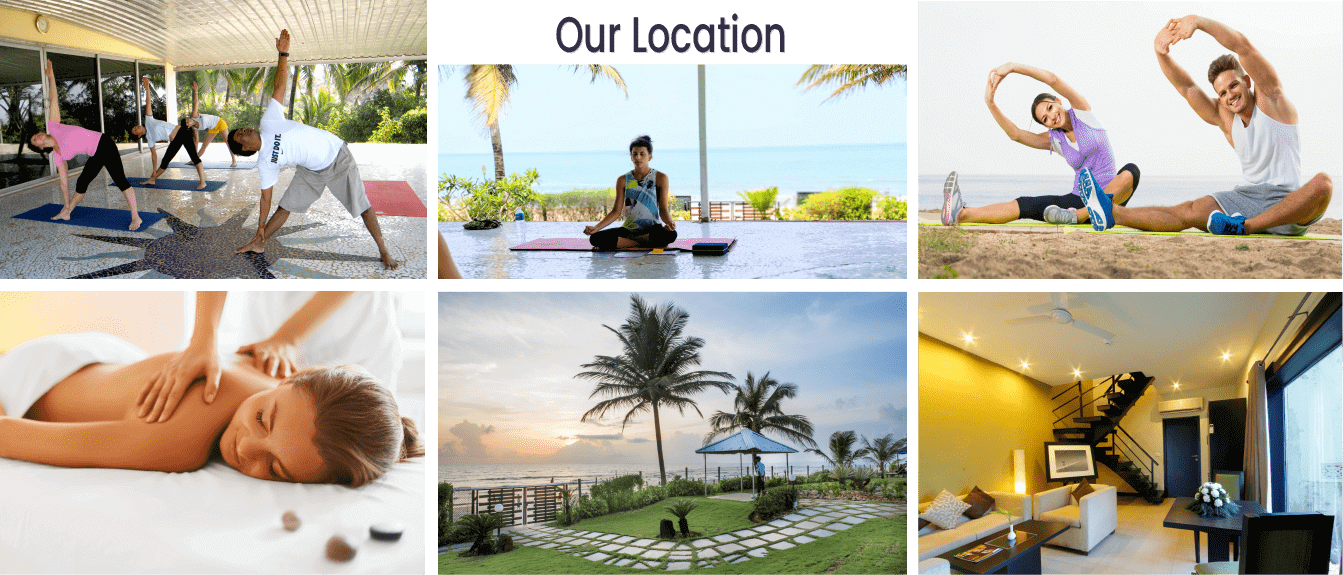 Contact Us: The Beach House Goa, Sernabatim Beach , Goa 403708, India   |   +91 788 809 8633   |  [email protected]