Ayurvedic Indian Detox Retreat In Goa, India
The Ayurvedic Indian Retreat offers you a complete detoxification with focus on stress reduction, immunity, rejuvenation, cleansing and nurturing of the body, mind and soul. The retreat has been designed by keeping in mind the true authentic principal of ayurveda and yoga. Indian holistic science has advised a number of ways to get a healthy body and mind and those unique principals in our retreat will help you to balance the three chakras of your health the physical, physiological. People are now recognizing the importance of eating healthily and thinking positively which is the basis of the ancient Indian holistic science. Our Indian detox retreat will leave you feeling completely recharged and better able to deal with the everyday demands at home and at work. A healthier body, complete relaxation and clarity of mind await you
SINGLE
GBP 960(Onwards)
---
DOUBLE (PP)
GBP 810 (Onwards)
SINGLE
GBP 1,270 (Onwards)
---
DOUBLE (PP)
GBP 1,080 (Onwards)
SINGLE
GBP 1,820 (Onwards)
---
DOUBLE (PP)
GBP 1,550 (Onwards)
SINGLE
GBP 2,430 (Onwards)
---
DOUBLE (PP)
GBP 2,050 (Onwards)
Special Offer – 25 % Off Now 
Book Before 20th April 2019 and Stay Between 12th April 2019 To 31st May 2019
– Is experiencing specific health issues.
– Wishes to break from unhealthy eating habits.
– Wants to get a better understanding about "self".
– Feels the need to take a break from Everyday Life.
– Has a belief in ayurveda and yoga.
– Feels stressed or overworked.
– Is affected by city living (high stress, long working hours, pollution, late nights.)
– Experiences emotional turmoil (irritability, anger, frustration, depression, and sadness.)
– Is seeking inner peace and happiness.
– Restlessness and Irritability.
– Poor Quality Sleep and Insomnia.
– Poor Concentration or Lapse in Memory.
– Coated Tongue, Bad Breath or Body Odour.
– IBS and any Digestive Problems.
– Weight Gain.
– Skin Problems such as Acne, Psoriasis and Eczema.
– Lifestyle (Alcohol, Toxic Exposure, Unhealthy Eating , High Stress).
– Pre Menstrual Tension and Mood Swings.
– Headaches or Migraines.
– Stiff, Aching Joints and Muscle Pains.
– Susceptibility to Cold, Flu or Any Infections.
– Respiratory Difficulties.
– Addictions (Cigarettes, Alcohol, Gambling etc).
– Allergies or Intolerances.
– Low Energy and Fatigue.
– Depression and Anxiety.
How You Benefit
Benefits You Can Expect From Our Retreat:
– A feeling of revitalization and complete rejuvenation.
– A complete detox of body and mind.
– Increased energy, vitality and stamina.
– Increased immunity and resistance to infections and illness.
– Increased metabolism and metabolic balancing for weight control.
– Weight Loss, Fat Loss and Inch Loss.
– Improved digestive functions such as absorption and elimination.
– Reduction in fluid retention.
– Reduced joint aches and pains and increased mobility.
Key Features
– Experience a true Ayurvedic cleanse and feel rejuvenated from within.
– A safe heaven to completely unwind and relax.
– Experience the best Ayurvedic massage therapies for you.
– Renew your ability to maintain optimum health.
– Experience a new level of peace and tranquillity.
– A quick way to ramp up your energy, clear your mind, and lighten the toxic load from your body.
"Great location, right on the beach close walk to nearby town. Absolutely loved our time here. Treatments were amazing and evening talks really interesting. Yoga was fantastic. Everyone was so friendly."
- Jennifer Vincent, 29 Ayurveda Retreat, Aug 2016, from UK
"Well located by the beach which adds value to the relaxation and detoxing aspect. Excellent massages, food and helpful staff."
- Eman Z, Age 43, Juice Detox & Ayurveda Retreat, Jul 2016, from Dubai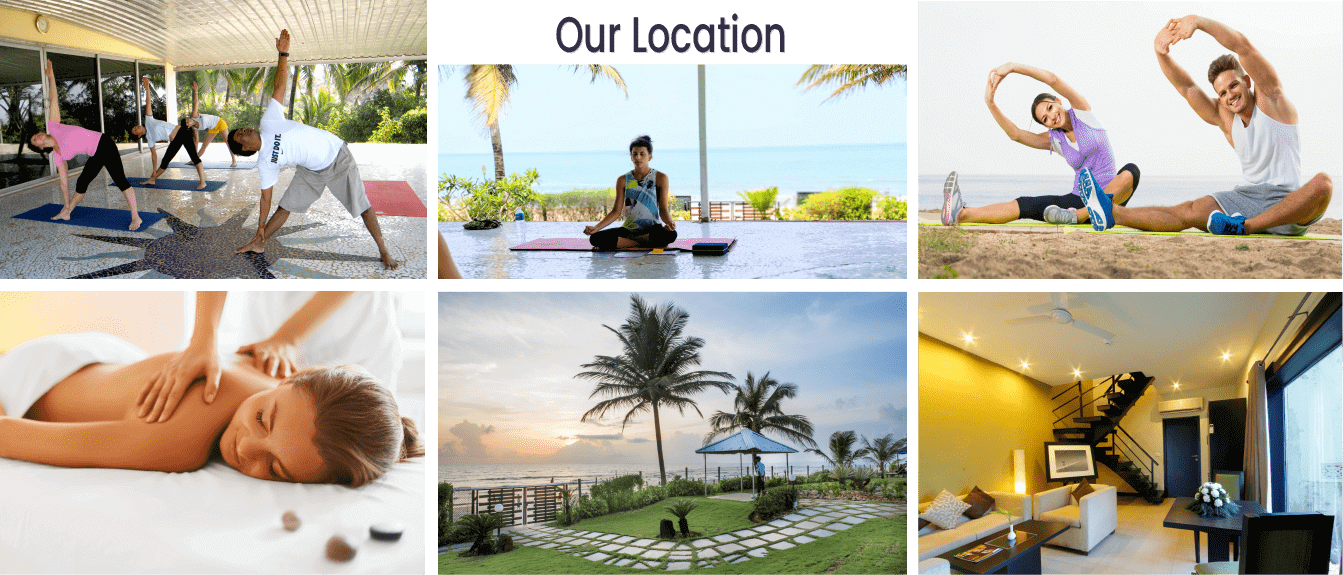 Contact Us: The Beach House Goa, Sernabatim Beach , Goa 403708, India   |   +91 788 809 8633   |  [email protected]