YOGA AND SPA RETREAT IN INDIA GOA
The Yoga and Spa retreat is designed for those who are looking to embark on a relaxing rejuvenating holiday inspired by the science of Yoga, accompanied with Personalized Luxury Spa treatments that will leave you feeling anew with a wide range of treatments to choose from.This package is especially created not only for those who enjoy practicing yoga in their daily lives, but also for those of you who have only just begun your journey discovering this healing science. Anyone who has recently developed an interest and wants to incorporate this meditative and relaxing practice of yoga into their lives will also find that this retreat will provide you just that.
You can enjoy practicing yoga twice daily with our experienced, warm and caring teachers who have an extensive experience in the field and will guide you and challenge you at a level suitable to your needs. With stress being a constant factor in our lives today, this would be the perfect opportunity to unwind using the gentle yet powerful techniques of yoga asana's, pranayama and meditation. We work with you designing the yoga and meditation sessions to assist you on this journey of your life to achieve health and wellbeing.
SINGLE
AED 4,870(Onwards)
---
DOUBLE (PP)
AED 4,098 (Onwards)
SINGLE
AED 6,461 (Onwards)
---
DOUBLE (PP)
AED 5,496 (Onwards)
SINGLE
AED 9,258 (Onwards)
---
DOUBLE (PP)
AED 7,859 (Onwards)
SINGLE
AED 12,344 (Onwards)
---
DOUBLE (PP)
AED 10,415 (Onwards)
Special Offer – 20 % Off Now 
Book Before 31st January 2019 and Stay Between 14th 

February

 2019 To 15th April 2019
(We Are Completely Sold Out Between 20th January 2019 to 13th February 2019)
Who Should Retreat
Wants to take a break from everyday life and is looking for holiday that will leave them feeling fully refreshed and rejuvenated. It is designed for anyone who would like to practice yoga, eat a healthy yogic diet and enjoy an array of relaxing spa treatments.
Wants to go on a yoga holiday for health & wellbeing.
Wants to get introduced to the practice of yoga and breathing exercises.
Wants to deepen their practice in yoga.
Feels the need for a relaxing spa holiday.
Wants to invigorate a tired body.
Enjoy being thoroughly pampered with spa therapy treatments.
How You Benefit
Benefits You Can Expect From Our Retreat:
Increased energy, vitality and stamina
Improved flexibility and muscle relaxation
Improved overall posture
Increased metabolism and metabolic balancing for weight control
Improved digestive functions such as absorption and elimination
Increased joint mobility
Improved sleep patterns and feeling rested and refreshed
A greater sense of peace and inner calm
Heightened mental clarity, focus, concentration and memory
Stability of moods and emotional balance
Increased Motivation and Enthusiasm
Clearer Brighter Skin and Eyes
Improved Condition of Hair and Nails
Feeling happier, healthier and lighter (physically and mentally)
Key Features
– Airport Pick-up and Drop. (charges are applicable)
– Welcome drink.
– Packed snack for departure journey.
– Access to a library of books and DVD's on Health and Wellness.
– Yoga & Spa Retreat Workbook.
– Retreat Journal.
– *All meals served are pure vegetarian and exclude meat, fish and egg.
– * Vegan, Gluten & Lactose free options are available.
"I spent 14 days in The Beach House on the Yoga Spa retreat. The program was great. The massages and treatments were also fantastic. The doctors and nutritionists were extremely knowledgeable and advised on improvements of my diet which I am still following. I have so much more energy!"
- Susanne, Age 38, Yoga & Spa Retreat, Dec 2015, from UK
"Beautiful! Love the Beach. Yoga was great. Massages were amazing! The food was fantastic. Everyone here is so friendly and positive. It's a fantastic retreat. I will highly recommend it."
- Dawn K, Age 46, Yoga and Spa, July 2015, from Abu Dhabi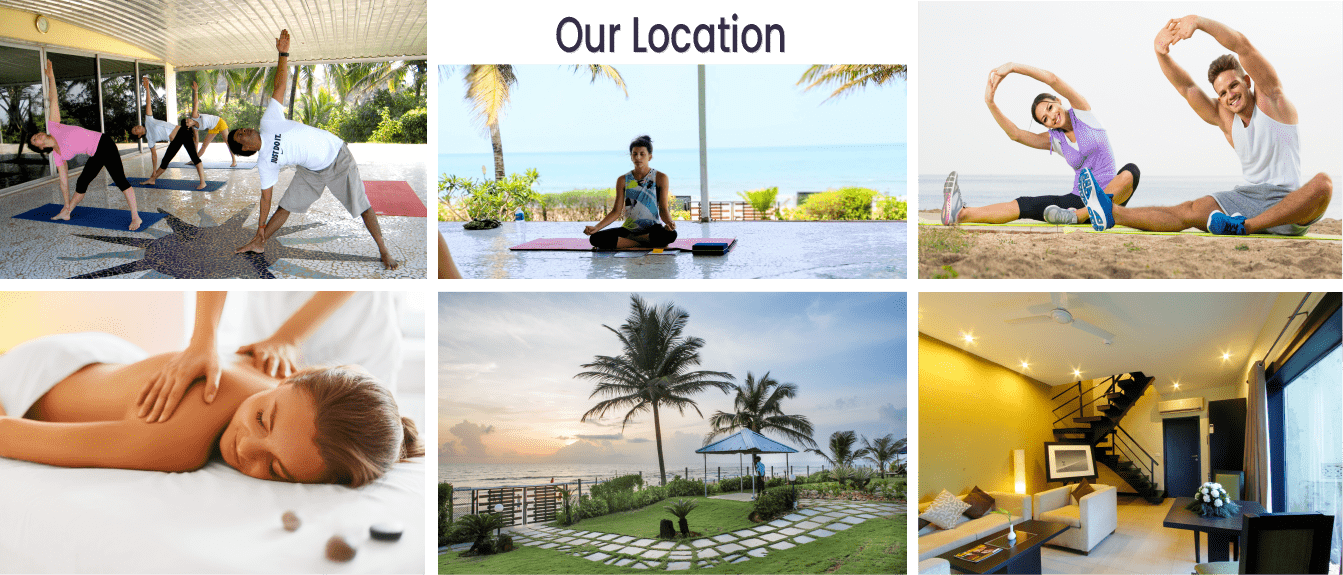 Contact Us: The Beach House Goa, Sernabatim Beach , Goa 403708, India   |   +91 788 809 8633   |  [email protected]