YOGA RETREAT HOLIDAYS IN INDIA GOA
Sanda's yoga retreat or the yoga foundation course aims to teach not just the practical application of yoga but teach you about the theoretical basis behind this physical, mental and spiritual discipline. The word yoga originates from the Sanskrit word "yuj" which means to unite or integrate. Ancient yogis believed that in order for man to be in harmony with himself and his environment, he has to integrate the body, the mind and the spirit. For these three to be integrated his emotion, action and intelligence must be in balance. The yogis formulated a way to achieve and maintain this balance and it is done through exercise, breathing and meditation. In yoga, the body is treated with care and respect.
Exercises improve circulation, stimulate the abdominal organs and work on the body's glandular system all resulting in better health. With daily physical tuition, theoretical classes, posture correction, pranayam and meditation sessions along with a freshly prepared wholesome vegetarian yogic diet, you will leave the retreat not only with a better knowledge of yoga but also rejuvenated, refreshed and energized both physically and mentally.
SINGLE
AED 4,069 (Onwards)
---
DOUBLE (PP)
AED 3,390 (Onwards)
SINGLE
AED 5,648  (Onwards)
---
DOUBLE (PP)
AED 4,547(Onwards)
SINGLE
AED 7,750 (Onwards)
---
DOUBLE (PP)
AED 6,170 (Onwards)
SINGLE
AED 10,290 (Onwards)
---
DOUBLE (PP)
AED 8,210  (Onwards)
Special Offer – 20 % Off Now
Book Before 31st October and Stay Between 1st November 18 To 25th December 18.
Who Should Retreat
This Yoga Holidays is designed for people who are beginner to intermediate level in yoga and want to learn more about the origins and benefits of this discipline. You will leave the program well equipped to develop your own practice as well as being able to advise those close to you. This is also a perfect foundation course for anyone considering going on to become a yoga instructor.
How You Benefit
Benefits You Can Expect From Our Retreat:
Increased energy, vitality and stamina
Increased knowledge of yogic philosophy
Increased knowledge of benefits of various yoga poses
Better flexibility and mobility of joints & muscles
Feeling happier& healthier
Huge reduction in stress
Anti aging benefits
Increased productivity at home and at work
Improvement in business and personal relationships
Heightened mental clarity , focus, concentration and memory
Improved sleep patterns and deeper sleep
A sense of peace and inner calm
Stability of moods and emotional balance
Increased self awareness
Key Features
– Embark on a journey to discover yoga.
– Attain and maintain balance through Asana, Pranayama & Meditation.
– Nourish your body from the inside out with clean and simple food.
– Capture the essence of yoga in its purest form.
– Experience therapeutic and relaxing massages.
– Leave the retreat feeling peaceful and relaxed.
"Yoga classes were great. Location is good because is in front of the beach. Very good impression. Staff are very helpful."
- Cecilia, Age 44, Yoga Retreat, Jul 2016, from Argentina
"Beautiful location feels very safe. Very well organized everybody is extremely friendly & kind. Wonderful retreat would definitely return & recommend to friends and family."
- Marie, Age 30, Yoga Retreat, Jun 2016, from UK
"The location is very nice, the beach is lovely and the sunset from the terrace is amazing. The retreat is very good, nice staff, nice clean rooms. The retreat is fun, very professional, very good education in Hatha yoga."
- Kennet G, Age 60, Yoga Retreat, February 2014, from Sweden
"People are very nice and helpful, the consultations were very good. The yoga sessions were informative and excellent because I felt my body more flexible."
- Nourah, Age 59, Yoga Retreat, October 2013, from Kuwait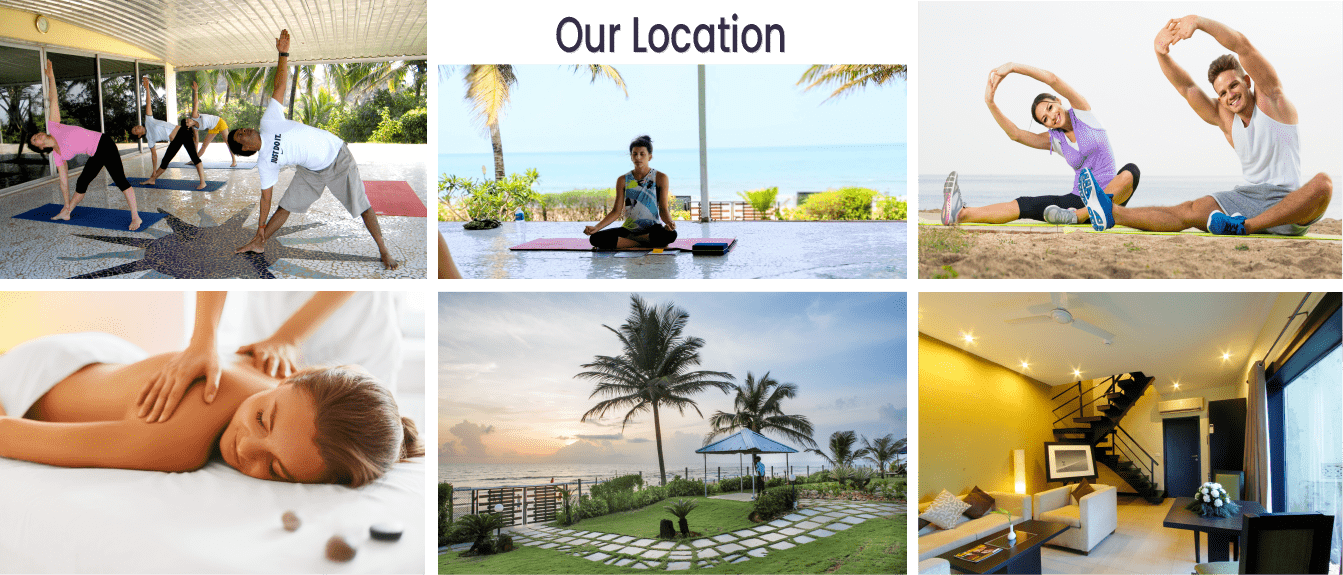 Contact Us: The Beach House Goa, Sernabatim Beach , Goa 403708, India   |   +91 788 809 8633   |  [email protected]