YOGA & DETOX IN INDIA GOA
With our unregulated and undisciplined lifestyle, the kind of food we eat, the air we breathe, the water we drink and our emotional pulls and pressures, certain hormones are secreted that have a tendency to leave behind toxins. The accumulation of toxins in our body is, therefore, natural. We CANNOT escape from this. At Sanda Retreats, we approach the detoxification process in all the 3 chakras of life….the Physical, Physiological & the Psychological aspect.
A well balanced practice of yoga is going to help with getting things moving in the body, and due to their work on the internal organs, can have a profound detoxing effect for the body. Practising yoga regularly will also improve your flexibility, your balance and your strength, which makes you more durable out in the world. Most forms of vigorous exercise stimulate all three systems of elimination to some extent, thereby helping the body in its quest to cleanse and detox. But yoga, with its focus on systematically stretching and compressing every part of the body, is particularly well-suited to keeping the waste-removal departments of the body functioning well.
SINGLE
AED 4,069 (Onwards)
---
DOUBLE (PP)
AED 3,390 (Onwards)
SINGLE
AED 5,648 (Onwards)
---
DOUBLE (PP)
AED 4,547 (Onwards)
SINGLE
AED 7,750 (Onwards)
---
DOUBLE (PP)
AED 6,170 (Onwards)
SINGLE
AED 10,290 (Onwards)
---
DOUBLE (PP)
AED 8,210 (Onwards)
Special Offer – 20 % Off Now 
Book Before 31st January 2019 and Stay Between 14th 

February

 2019 To 15th April 2019
(We Are Completely Sold Out Between 20th January 2019 to 13th February 2019)
Who Should Retreat
Yogic breathing helps clear out carbon dioxide from the lung tissue, stimulates the organs of digestion and can, over time, retrain the diaphragm to move freely. The practise of yoga will also connect your mind with your body. Doing yoga helps purge toxic thoughts by teaching you to move your awareness away from the chaos of the mind and back to the present moment. That practice is not a basic component of other fitness pursuits.
How You Benefit
Benefits You Can Expect From Our Retreat:
Cleanses and activates all vital organs of the body especially the digestive, respiratory, circulatory and nervous systems.
They are preventive as well as curative in nature.
Ones capacity to digest, taste, work, think and feel is enhanced wonderfully.
Increased Motivation and Enthusiasm.
Increased Self Awareness.
Increased knowledge of personal health and wellness.
Increased knowledge of optimum nutrition and food choice with respect to diabetes.
Key Features
– All Inclusive Luxury Accommodation.
– Daily Educational Talks, Presentations, Workshops and Informal Group Sessions.
– Daily Yoga and Relaxation Sessions.
– Yogic shudhi kriya sessions
– Daily pranayam sessions.
– Daily Guided Meditation Sessions or Workshop.
– Daily1 Holistic Indian Treatments.
– Personalised Daily Nutritionally Balanced Vegetarian Meal Plan*
"I just wanted to say thank you so much to all the staff. I truly had such an incredible experience, I felt so amazing by the end of the week, completely re-charged. The food was so amazing."
- Caroline H, Age 36, Yoga & Detox Retreat, Nov 2015, from UK
"Calming, beautiful and perfect to get to the beach. Great staff and small enough to have a great positive environment. AMAZING! I want to comeback."
- Jonathan, Age 59, Yoga and Detox, Dec 2014, from UK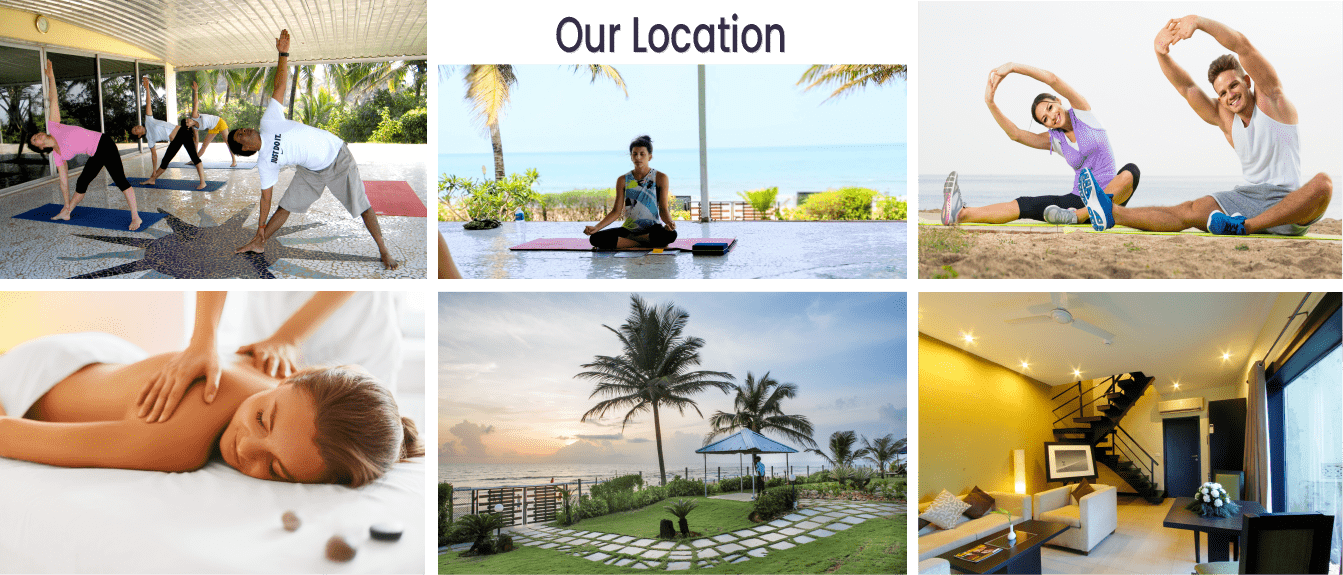 Contact Us: The Beach House Goa, Sernabatim Beach , Goa 403708, India   |   +91 788 809 8633   |  [email protected]