MEDITATION RETREAT IN INDIA-GOA
In a world where our minds never stop and many of us find it difficult to just switch off, the Beach House Goa's Transformational Meditation retreat offers you simple yet intensely powerful meditation techniques. You will learn to incorporate meditation as part of your daily routine, meditation that is easy to learn, effortless to practice and does not require specific beliefs, behaviour or lifestyle and is not connected to any religion.
The retreat incorporates various mediation styles backed by numerous scientific research shown to help keep your body and mind healthy by transforming an individual and settling to the simplest, most powerful state of awareness allowing you to tap into the inner reservoir of your creativity, energy and intelligence. During the course of the retreat you will practice concentration meditation that trains the mind to cut out all distractions allowing your mind to be calm and awakened. In reflective meditation you learn to stimulate a transformative power to change the course of your life and through mindfulness meditation, chakra meditation and creative meditation to transform your mind from negative to positive, from disturbed to peaceful and from unhappy to happy.
SINGLE
GBP 820 (Onwards)
---
DOUBLE (PP)
GBP 690 (Onwards)
Special Offer – 20 % Off Now 
Book Before 25th December and Stay Between 20th January 2019 To 28th  February 2019
(We Are Completely Sold Out Between 25th December 2018 to 10th January 2019)
Who Should Retreat
Wants to learn a new meditative technique as an empowering skill to enhance all levels of life – health, mental potential, social behavior, and inner peace.
Wants to de-stress
Seeking relaxation, peace & quiet
Seeking growth both personally and socially
Wants to deepen their practice in meditation
Wants to invigorate a tired body
How You Benefit
Benefits You Can Expect From Our Retreat:
Improved mental clarity with a high level of alertness
Gaining a deep sense of relaxation
Increasing creativity and intelligence
Attaining inner happiness, inner peace and fulfilment
Ability to better manage stress
Higher work efficiency
Healthy blood pressure
Improved interpersonal relationships
Balancing the nervous systemactivation,
Balancing hormonal levels.
Increasing brain coherence.
Key Features
– Embark on a journey of inner healing and self-discovery
– Experience complete body cleansing and mind rejuvenation
– Get empowered to manage your wellbeing through daily talks and workshops
– Experience increased immunity and resistance to infections
– Regain your mental clarity, focus, concentration
– A perfect wellness holiday for those stressed out emotionally and physically
"The package of yoga exercises & therapy together with massages and vegetarian diet made me feel as though the whole experience was tailor-made. Staff all very helpful & friendly."
- Vivienne P, Age 67, Transformational Meditation, Jul 2016, from UK
"Beach House was beautiful, peaceful setting, variation of instructors, friendly atmosphere. Enjoyed evening talks, videos information. Theory session were also thorough."
- Fionna M, Age 39, Transformational Meditation, Jul 2016, from UK
"The Whole experience has been a truly amazing one, Joseph is so professional and engaged with all aspects of his teaching, you can see that he is totally dedicated to his teaching practice & a strong bond has been made between us.I thank you from the bottom of my heart."
- Graham, Transformational Meditation Retreat, Jan 2016, from UK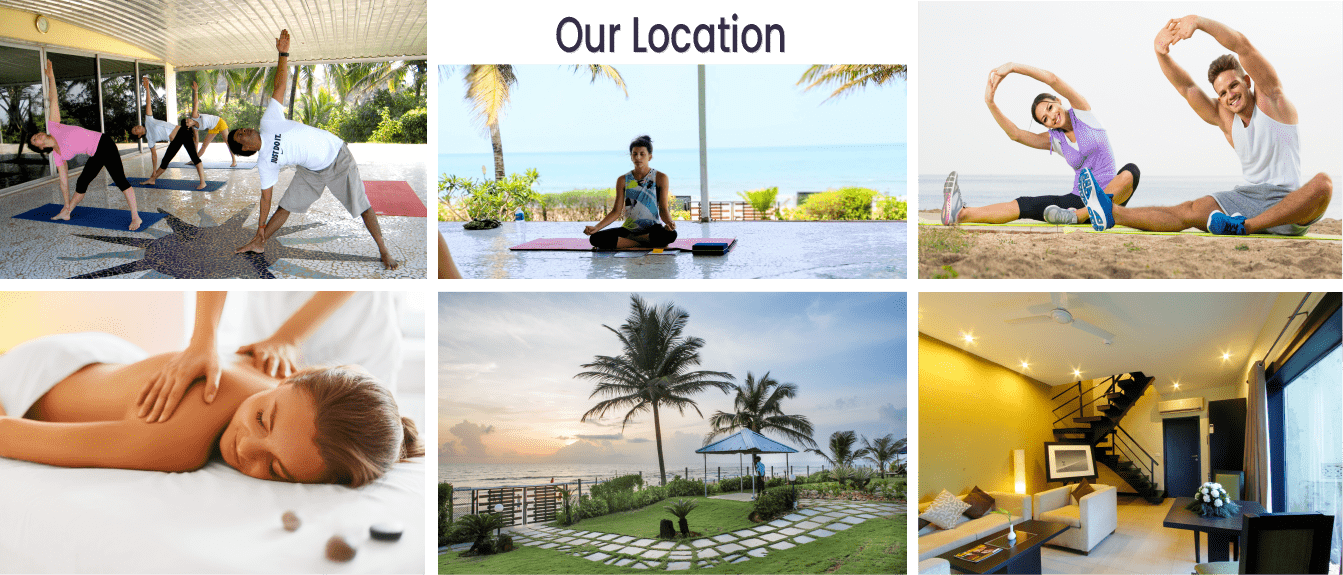 Contact Us: The Beach House Goa, Sernabatim Beach , Goa 403708, India   |   +91 788 809 8633   |  [email protected]